Image Keying
We key to specific aspects of each image to enable an immediate launch of your video content or another site. We also host your images and corresponding videos to ensure that your AR content lives on through your media.
$3000 annual license fee for basic capabilities
$50 fee one-time to key each image
$20 fee per month / per image for hosting
AR Channels
AR channels allow you organize your information for ease of use. You can add a link to your website, have direct ``click-to-call`` to company contacts, or even take payments – it's up to you.
Organize your content by department or location
Create jump links to web content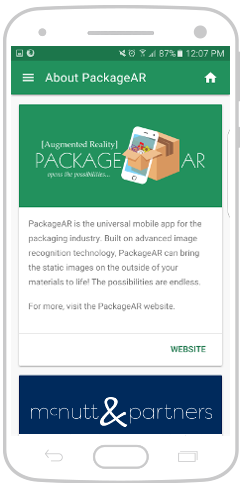 Customizations
Our web and app development team create next-level products that can give your company an edge over the competition. We can customize your app by incorporating elements of your existing brochures, website, and other digital content.
Add your own style by customizing it with your existing media.
Features such as a calculator or coupons are easy to include.
Reporting and Privacy
We can split your content into public facing and private information and provide statistical data on app usage. We use industry leading technologies and practices to ensure your data stays yours, and your users' privacy is respected.
Your information and the information on your users is kept secure.
Your app can be tailored with private pages that are only accessible by your employees.